Toilet tourism awards fun for a serious cause
BTN News18
Thursday, 06 July 2017
When we reported on the World Toilet Organization in 2001 – one of the first news services to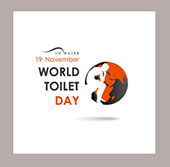 do so – the feedback was immediate and, as might be expected, rather ribald. But the organisation and its World Toilet Summit had a serious intention: to help raise awareness of the sanitation crisis in many parts of the world while at the same time highlighting technological advances in the sector and praising initiatives.
The WTO – and others – have also pointed to the importance of adequate toilets to tourism.
Now MyTravelResearch.com has given a boost to World Toilet Day by creating the International Toilet Tourism Awards. Inaugural winners were announced this week.
World Toilet Day www.worldtoiletday.info has impeccable credentials. First mooted by WTO www.worldtoilet.org and supported by the Singapore government, it evolved further in 2013 when the UN General Assembly formally designated November 19 as World Toilet Day.
It has become a major sanitation project coordinated by UN Water involving governments, NGOs and private organisations.
Carolyn Childs and Bronwyn White, co-founders of Sydney-based MyTravelResearch.com set out to show the clear link between toilets and tourism success.
They note that "great loos in tourism destinations become talking points, encourage repeat visits and can be a positive indicator of how the host community respects tourists. When visitors stop to spend a penny, they usually spend more than that and end up boosting the local visitor economy and creating jobs."
Their call for entries in the inaugural awards brought 30 contenders. Six category winners were chosen with judging assistance from world traveller Dick Teaken who is currently writing a book about toilets of the world.
From these an overall winner was selected. There was also a 'special mention' for a series of toilet triumphs.
Winner of the best economic contributor category were the toilets at the Southern Highlands Welcome Centre in Mittagong, NSW.
"Despite a very small decorating budget for the toilets, the SHWC has been wonderfully innovative with their colourful, fun and informative loos concept."
Best location went to a cliff-hanger loo with a view, overlooking the sea on the Cobourg Peninsula, Garig Gunak Barlu National Park, Northern Territory. The toilet is water-less, odour-less and converts fresh waste into organic hummus. Crocodiles bask on the sand below.
The best design category was shared by two winners including Hahei Holiday Resort at Coromandel, NZ where the toilet and shower block was described as "part of a glamping backpacker lodge designed to personify eco beachfront coast chic using as much reused and carbon-friendly products as possible. Easy access ramps with sensor lighting and native plants in an atrium lead to oversize showers and loos. The conveniences have light opaque roofing for natural light, open trusses and external gable ventilation, with plenty of recycled native timber featured, including LED lights in old beer bottles and ceramic sinks from a hospital."
Joint winner for design was the Kathleen Buzzacott Art Studio in Alice Springs. Said the judges: "The building is an extension of the artist's creative space. People pull up chairs to sit and admire the toilet doors, which tell their own Aboriginal stories."
The quirkiest toilet experience award was taken by Dunnies with a Difference, the prestige range of Toowoomba Portable Toilets www.toowoombaportabletoilets.com.au
The judges said these "transform toilets from something you hide at outdoor events into wonderful quirky attractions that add real value because they are so pretty, functional, hygienic and mobile".
The public toilet at Arthurs Seat Park run by Parks Victoria was selected as best accessible toilet and a special mention went to the Wisconsin Department of Tourism for a variety of toilets and toilet-linked events.
Overall winner for 2017 was Toowoomba Portable Toilets. MyTravelResearch.com has made a $2000 donation to World Toilet Day in their name. They and the other winners will also get a copy of each research publication from MyTravelResearch.com in 2017, valued at $8000.
http://impactpub.com.au/micebtn/85-news/btn-news/20403-toilet-tourism-awards-fun-for-a-serious-cause